The 2021 New Paris Speedway schedule has been released highlighted by the 20th Anniversary Summer Sizzler!!!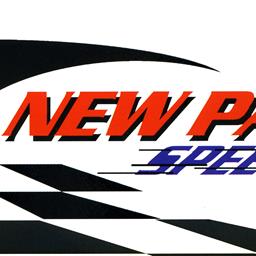 5/8/2021 - New Paris Speedway
New Paris, IN
Spring Sizzler V8 Classic, Ginger Phillips Memorial
Don't miss the 2021 Spring Sizzler where the Outlaw Late Models will be competing for 100 laps and a top prize of $3,000.00 in the inaugural race for the Reveal the Hammer Late Model Series. Also on hand will be: Modifieds, Limited Late Models and Street Stocks in the Ginger Phillips Memorial. This is a night packed with all the V8 power you can handle.
Monteith's Street Stocks

20 entries

Limited Late Models

6 entries

Bennett Drive Away Outlaw Late Models

17 entries

Modifieds

7 entries
Full Event Information on MyRacePass
Monteith's Street Stocks
40 Laps
Ginger Phillips Memorial RaceMonteith's Best One Tire and Auto
Finish
Start
#
Competitor
Hometown
+/-
1
19
20
Travis Schlabach Syracuse, IN
Syracuse, IN
18
2
11
4
Todd Hall Goshen, IN
Goshen, IN
9
3
14
37S
Dylan Stremme South Bend, IN
South Bend, IN
11
4
13
32H
Gage Harris Buchanan, MI
Buchanan, MI
9
5
15
16B
Bradley Whetzel Goshen, IN
Goshen, IN
10
6
7
2W
Scott Whetzel Hudson, IN
Hudson, IN
1
7
18
2B
Bug Schisler
11
8
9
41W
Dustin Williams Elkhart, IN
Elkhart, IN
1
9
4
55C
Kameron Cox Cromwell, IN
Cromwell, IN
-5
10
2
64
Rex Evans Etna Green, IN
Etna Green, IN
-8
11
6
15
Mark Beers Elkhart, IN
Elkhart, IN
-5
12
17
17
Bobby Schisler Cromwell, IN
Cromwell, IN
5
13
8
136
Calvin Kelley Elkhart, IN
Elkhart, IN
-5
14
16
58M
Ron Maynard Edwardsburg, MI
Edwardsburg, MI
2
15
3
60M
Austin Meads Warsaw, IN
Warsaw, IN
-12
16
12
30S
Steve Smith Jr Elkhart, IN
Elkhart, IN
-4
17
10
51H
Josh Highbaugh Edwardsburg, MI
Edwardsburg, MI
-7
18
1
22
Jason Luley Cromwell, IN
Cromwell, IN
-17
19 DNF
20
61
Cameron Schlabach Syracuse, IN
Syracuse, IN
1
20 DNF
5
69V
Mark Vance Elkhart, IN
Elkhart, IN
-15
3 Laps
Qualifying 1Monteith's Best One Tire and Auto
Finish
Start
#
Competitor
Hometown
Time
1
14
20
Travis Schlabach Syracuse, IN
Syracuse, IN
14.566
2
12
2B
Bug Schisler
14.844
3
11
17
Bobby Schisler Cromwell, IN
Cromwell, IN
14.854
4
9
58M
Ron Maynard Edwardsburg, MI
Edwardsburg, MI
14.958
5
18
16B
Bradley Whetzel Goshen, IN
Goshen, IN
15.001
6
16
37S
Dylan Stremme South Bend, IN
South Bend, IN
15.142
7
5
32H
Gage Harris Buchanan, MI
Buchanan, MI
15.145
8
15
30S
Steve Smith Jr Elkhart, IN
Elkhart, IN
15.162
9
4
4
Todd Hall Goshen, IN
Goshen, IN
15.214
10
6
51H
Josh Highbaugh Edwardsburg, MI
Edwardsburg, MI
15.284
11
20
41W
Dustin Williams Elkhart, IN
Elkhart, IN
15.420
12
7
136
Calvin Kelley Elkhart, IN
Elkhart, IN
15.454
13
19
2W
Scott Whetzel Hudson, IN
Hudson, IN
15.481
14
1
15
Mark Beers Elkhart, IN
Elkhart, IN
15.482
15
17
69V
Mark Vance Elkhart, IN
Elkhart, IN
15.620
16
2
55C
Kameron Cox Cromwell, IN
Cromwell, IN
15.786
Top 16 transfer
17
3
64
Rex Evans Etna Green, IN
Etna Green, IN
16.614
18
8
22
Jason Luley Cromwell, IN
Cromwell, IN
16.735
19
10
60M
Austin Meads Warsaw, IN
Warsaw, IN
16.735
DNS
13
61
Cameron Schlabach Syracuse, IN
Syracuse, IN
16.735
Hot Laps 1Monteith's Best One Tire and Auto
Finish
Start
#
Competitor
Hometown
Time
1
9
58M
Ron Maynard Edwardsburg, MI
Edwardsburg, MI
14.966
2
14
30S
Steve Smith Jr Elkhart, IN
Elkhart, IN
14.983
3
13
20
Travis Schlabach Syracuse, IN
Syracuse, IN
14.986
4
5
32H
Gage Harris Buchanan, MI
Buchanan, MI
15.004
5
4
4
Todd Hall Goshen, IN
Goshen, IN
15.054
6
11
2B
Bug Schisler
15.086
7
20
17
Bobby Schisler Cromwell, IN
Cromwell, IN
15.100
8
15
37S
Dylan Stremme South Bend, IN
South Bend, IN
15.130
9
17
16B
Bradley Whetzel Goshen, IN
Goshen, IN
15.156
10
7
136
Calvin Kelley Elkhart, IN
Elkhart, IN
15.167
11
19
41W
Dustin Williams Elkhart, IN
Elkhart, IN
15.301
12
6
51H
Josh Highbaugh Edwardsburg, MI
Edwardsburg, MI
15.358
13
1
15
Mark Beers Elkhart, IN
Elkhart, IN
15.394
14
16
69V
Mark Vance Elkhart, IN
Elkhart, IN
15.494
15
10
60M
Austin Meads Warsaw, IN
Warsaw, IN
15.622
16
2
55C
Kameron Cox Cromwell, IN
Cromwell, IN
15.925
17
3
64
Rex Evans Etna Green, IN
Etna Green, IN
17.055
18
8
22
Jason Luley Cromwell, IN
Cromwell, IN
16.389
19
18
2W
Scott Whetzel Hudson, IN
Hudson, IN
16.389
Limited Late Models
Finish
Start
#
Competitor
Hometown
+/-
1
5
1C
Tim Craig Bristol, IL
Bristol, IL
4
2
6
86H
Cody Hawn Cromwell, IN
Cromwell, IN
4
3
4
7S
Travis Schlabach Syracuse, IN
Syracuse, IN
1
4
2
60
Brandon Fink Nappanee, IN
Nappanee, IN
-2
DNS
1
13R
Aaron Flora Elkhart, IN
Elkhart, IN
-
DNS
3
2R
Scott Reel Elkhart, IN
Elkhart, IN
-
Finish
Start
#
Competitor
Hometown
Time
1
4
86H
Cody Hawn Cromwell, IN
Cromwell, IN
14.018
2
1
1C
Tim Craig Bristol, IL
Bristol, IL
14.204
3
6
7S
Travis Schlabach Syracuse, IN
Syracuse, IN
14.262
4
5
2R
Scott Reel Elkhart, IN
Elkhart, IN
14.906
5
2
60
Brandon Fink Nappanee, IN
Nappanee, IN
15.142
DNS
3
13R
Aaron Flora Elkhart, IN
Elkhart, IN
15.786
Finish
Start
#
Competitor
Hometown
Time
1
1
1C
Tim Craig Bristol, IL
Bristol, IL
13.972
2
3
86H
Cody Hawn Cromwell, IN
Cromwell, IN
14.022
3
6
7S
Travis Schlabach Syracuse, IN
Syracuse, IN
14.146
4
5
2R
Scott Reel Elkhart, IN
Elkhart, IN
14.853
5
4
60
Brandon Fink Nappanee, IN
Nappanee, IN
15.131
6
2
13R
Aaron Flora Elkhart, IN
Elkhart, IN
16.012
Bennett Drive Away Outlaw Late Models
100 Laps
Spring SizzlerBennett Drive Away
Finish
Start
#
Competitor
Hometown
+/-
1
11
14N
Steve Needles Berrien Springs, MI
Berrien Springs, MI
10
2
9
10L
Jack Landis Edgerton, OH
Edgerton, OH
7
3
6
6A
Shawn Amor Walkerton, IN
Walkerton, IN
3
4
10
9W
Kenny Whitman Elkhart, IN
Elkhart, IN
6
5
2
22H
Rick Hahn Jr. Indianapolis, IN
Indianapolis, IN
-3
6
16
101E
Craig Everage
10
7
7
25R
JR Roahrig Plymouth, IN
Plymouth, IN
-
8
12
24R
Tyler Roahrig Plymouth, IN
Plymouth, IN
4
9
3
12S
Scott Ross Plymouth, IN
Plymouth, IN
-6
10
5
14T
Michael Thayer
-5
11
8
40K
Donny Klotz Edwardsburg, MI
Edwardsburg, MI
-3
12
14
2D
Austin Davis North Liberty , IN
North Liberty , IN
2
13
1
93T
Doug True Dowagiac, MI
Dowagiac, MI
-12
14
4
4T
Adam Terry St. Joseph, MI
St. Joseph, MI
-10
15
13
15
Brian Maxim Sparta, MI
Sparta, MI
-2
16
15
61S
Travis Schlabach Syracuse, IN
Syracuse, IN
-1
DNS
17
33XX
Blake Childers Flint, MI
Flint, MI
-
3 Laps
Qualifying 1Bennett Drive Away
Finish
Start
#
Competitor
Hometown
Time
1
11
24R
Tyler Roahrig Plymouth, IN
Plymouth, IN
13.239
2
9
14N
Steve Needles Berrien Springs, MI
Berrien Springs, MI
13.241
3
17
9W
Kenny Whitman Elkhart, IN
Elkhart, IN
13.283
4
7
10L
Jack Landis Edgerton, OH
Edgerton, OH
13.322
5
6
40K
Donny Klotz Edwardsburg, MI
Edwardsburg, MI
13.331
6
10
25R
JR Roahrig Plymouth, IN
Plymouth, IN
13.393
7
4
101E
Craig Everage
13.403
8
1
6A
Shawn Amor Walkerton, IN
Walkerton, IN
13.407
9
15
14T
Michael Thayer
13.560
10
14
4T
Adam Terry St. Joseph, MI
St. Joseph, MI
13.624
11
13
61S
Travis Schlabach Syracuse, IN
Syracuse, IN
13.721
12
12
12S
Scott Ross Plymouth, IN
Plymouth, IN
13.766
13
5
22H
Rick Hahn Jr. Indianapolis, IN
Indianapolis, IN
13.851
14
16
93T
Doug True Dowagiac, MI
Dowagiac, MI
13.899
15
8
15
Brian Maxim Sparta, MI
Sparta, MI
14.082
16
3
2D
Austin Davis North Liberty , IN
North Liberty , IN
14.377
Top 16 transfer
DNS
2
33XX
Blake Childers Flint, MI
Flint, MI
13.239
Hot Laps 1Bennett Drive Away
Finish
Start
#
Competitor
Hometown
Time
1
16
14N
Steve Needles Berrien Springs, MI
Berrien Springs, MI
13.172
2
7
25R
JR Roahrig Plymouth, IN
Plymouth, IN
13.198
3
8
24R
Tyler Roahrig Plymouth, IN
Plymouth, IN
13.241
4
4
40K
Donny Klotz Edwardsburg, MI
Edwardsburg, MI
13.315
5
5
10L
Jack Landis Edgerton, OH
Edgerton, OH
13.400
6
14
6A
Shawn Amor Walkerton, IN
Walkerton, IN
13.414
7
13
9W
Kenny Whitman Elkhart, IN
Elkhart, IN
13.444
8
15
101E
Craig Everage
13.492
9
11
14T
Michael Thayer
13.555
10
10
4T
Adam Terry St. Joseph, MI
St. Joseph, MI
13.583
11
3
22H
Rick Hahn Jr. Indianapolis, IN
Indianapolis, IN
13.584
12
12
93T
Doug True Dowagiac, MI
Dowagiac, MI
13.604
13
17
61S
Travis Schlabach Syracuse, IN
Syracuse, IN
13.241
14
1
33XX
Blake Childers Flint, MI
Flint, MI
13.768
15
9
12S
Scott Ross Plymouth, IN
Plymouth, IN
13.935
16
6
15
Brian Maxim Sparta, MI
Sparta, MI
14.000
17
2
2D
Austin Davis North Liberty , IN
North Liberty , IN
14.500
Modifieds
Finish
Start
#
Competitor
Hometown
+/-
1
7
92
Steve Shlater Jr. Fort Wayne, IN
Fort Wayne, IN
6
2
6
1K
Al Berry Albion, IN
Albion, IN
4
3
4
12G
Kevin Gunkel North Webster, IN
North Webster, IN
1
4
3
20L
Tim Lahar Lansing, MI
Lansing, MI
-1
5
5
38
KC Spillers Ft Wayne, IN
Ft Wayne, IN
-
6
1
67F
Daniel Foulk Angola, IN
Angola, IN
-5
7
2
80B
Ralph Baxter III Fort Wayne, IN
Fort Wayne, IN
-5
Finish
Start
#
Competitor
Hometown
Time
1
6
92
Steve Shlater Jr. Fort Wayne, IN
Fort Wayne, IN
13.957
2
2
1K
Al Berry Albion, IN
Albion, IN
14.107
3
7
38
KC Spillers Ft Wayne, IN
Ft Wayne, IN
14.299
4
4
12G
Kevin Gunkel North Webster, IN
North Webster, IN
14.748
5
5
20L
Tim Lahar Lansing, MI
Lansing, MI
14.975
6
1
80B
Ralph Baxter III Fort Wayne, IN
Fort Wayne, IN
15.168
7
3
67F
Daniel Foulk Angola, IN
Angola, IN
15.476
Finish
Start
#
Competitor
Hometown
Time
1
5
92
Steve Shlater Jr. Fort Wayne, IN
Fort Wayne, IN
14.103
2
2
1K
Al Berry Albion, IN
Albion, IN
14.110
3
6
38
KC Spillers Ft Wayne, IN
Ft Wayne, IN
14.165
4
3
67F
Daniel Foulk Angola, IN
Angola, IN
14.331
5
4
12G
Kevin Gunkel North Webster, IN
North Webster, IN
14.380
6
20L
Tim Lahar Lansing, MI
Lansing, MI
14.443
7
1
80B
Ralph Baxter III Fort Wayne, IN
Fort Wayne, IN
14.588