The 2021 New Paris Speedway schedule has been released highlighted by the 20th Anniversary Summer Sizzler!!!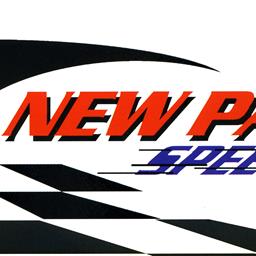 6/19/2021 - New Paris Speedway
New Paris, IN
Mid Season Championships and Fireworks
A night of racing excitement with our Mid-Season Championships followed by an awesome Fireworks display. Bring out the whole family and enjoy an awesome Saturday.
Bennett Drive Away Diva Hornets

6 entries

Hornets

22 entries

Troyer Carpets Outlaw Front Wheel Drives

4 entries

Swi's Guys Mini-Stocks

2 entries

Monteith's Street Stocks

12 entries

Limited Late Models

5 entries
Full Event Information on MyRacePass
Bennett Drive Away Diva Hornets
Finish
Start
#
Competitor
Hometown
+/-
1
6
00
Kelsea Fletcher Syracuse, IN
Syracuse, IN
5
2
3
00R
Jazmine Reams Bristol, IN
Bristol, IN
1
3
4
15
Kylie Horn Howe, IN
Howe, IN
1
4
2
03
Leslie Luley Cromwell, IN
Cromwell, IN
-2
5
1
4E
Alyssa Evans Etna Green, IN
Etna Green, IN
-4
6
5
61
Chloe Schlabach Syracuse, IN
Syracuse, IN
-1
Finish
Start
#
Competitor
Hometown
+/-
1
3
00R
Jazmine Reams Bristol, IN
Bristol, IN
2
2
6
00
Kelsea Fletcher Syracuse, IN
Syracuse, IN
4
3
4
15
Kylie Horn Howe, IN
Howe, IN
1
4
1
4E
Alyssa Evans Etna Green, IN
Etna Green, IN
-3
5 DNF
5
61
Chloe Schlabach Syracuse, IN
Syracuse, IN
-
DNS
2
03
Leslie Luley Cromwell, IN
Cromwell, IN
-
All transfer
Finish
Start
#
Competitor
Hometown
Time
1
1
00
Kelsea Fletcher Syracuse, IN
Syracuse, IN
17.391
2
2
61
Chloe Schlabach Syracuse, IN
Syracuse, IN
17.777
3
5
15
Kylie Horn Howe, IN
Howe, IN
17.863
4
3
00R
Jazmine Reams Bristol, IN
Bristol, IN
17.922
5
4
03
Leslie Luley Cromwell, IN
Cromwell, IN
19.135
6
6
4E
Alyssa Evans Etna Green, IN
Etna Green, IN
20.762
All transfer
Finish
Start
#
Competitor
Hometown
Time
1
2
61
Chloe Schlabach Syracuse, IN
Syracuse, IN
17.391
2
5
15
Kylie Horn Howe, IN
Howe, IN
17.708
Hornets
Finish
Start
#
Competitor
Hometown
+/-
1
14
03C
Ryan Crocker Mishawaka, IN
Mishawaka, IN
13
2
12
43E
Tyler Evans Etna Green, IN
Etna Green, IN
10
3
11
14V
Curtis Vitali IN, IN
IN, IN
8
4
10
5X
Andrew Hamilton Osceola, IN
Osceola, IN
6
5
13
27G
Kimmie Grubb New Paris, IN
New Paris, IN
8
6
9
03W
Kevin Witmer New Paris, IN
New Paris, IN
3
7
5
13J
Justin Holdeman Elkhart, IN
Elkhart, IN
-2
8
2
13S
Keith Smith Warsaw, IN
Warsaw, IN
-6
9
6
05
Mark Allen ASHLEY, IN
ASHLEY, IN
-3
10
1
35S
Chris Scarberry Jones, MI
Jones, MI
-9
11
3
19W
Emma Wohlford Goshen, IN
Goshen, IN
-8
12 DNF
4
05A
Xavier Allen Allen ASHLEY, IN
ASHLEY, IN
-8
13 DNF
7
13X
Kenneth Daren Jr Plymouth, IN
Plymouth, IN
-6
14 DNF
8
51X
George Flowers Goshen, IN
Goshen, IN
-6
Finish
Start
#
Competitor
Hometown
+/-
1
8
98T
Tyler Miller New Paris, IN
New Paris, IN
7
2
6
4E
Rex Evans Etna Green, IN
Etna Green, IN
4
3
5
98
John Jager Kimmell, IN
Kimmell, IN
2
4
4
03L
Jason Luley Cromwell, IN
Cromwell, IN
-
5
3
99E
Richard Evans Elkhart, IN
Elkhart, IN
-2
6
2
91S
John Slone Ligonier, IN
Ligonier, IN
-4
7
1
6A
Daniel Archer Middlebury, IN
Middlebury, IN
-6
DNS
7
57B
Alekzander Bonee Howe, IN
Howe, IN
-
Finish
Start
#
Competitor
Hometown
+/-
1
3
03W
Kevin Witmer New Paris, IN
New Paris, IN
2
2
6
43E
Tyler Evans Etna Green, IN
Etna Green, IN
4
3
4
5X
Andrew Hamilton Osceola, IN
Osceola, IN
1
4
7
27G
Kimmie Grubb New Paris, IN
New Paris, IN
3
5
8
03C
Ryan Crocker Mishawaka, IN
Mishawaka, IN
3
6
5
14V
Curtis Vitali IN, IN
IN, IN
-1
7
2
51X
George Flowers Goshen, IN
Goshen, IN
-5
8
1
13X
Kenneth Daren Jr Plymouth, IN
Plymouth, IN
-7
Finish
Start
#
Competitor
Hometown
+/-
1
6
13J
Justin Holdeman Elkhart, IN
Elkhart, IN
5
2
2
35S
Chris Scarberry Jones, MI
Jones, MI
-
3
4
19W
Emma Wohlford Goshen, IN
Goshen, IN
1
4
1
4E
Rex Evans Etna Green, IN
Etna Green, IN
-3
5
7
05
Mark Allen ASHLEY, IN
ASHLEY, IN
2
6
5
05A
Xavier Allen Allen ASHLEY, IN
ASHLEY, IN
-1
7
3
13S
Keith Smith Warsaw, IN
Warsaw, IN
-4
Finish
Start
#
Competitor
Hometown
+/-
1
6
98
John Jager Kimmell, IN
Kimmell, IN
5
2
2
91S
John Slone Ligonier, IN
Ligonier, IN
-
3
4
99E
Richard Evans Elkhart, IN
Elkhart, IN
1
4
3
98T
Tyler Miller New Paris, IN
New Paris, IN
-1
5
1
6A
Daniel Archer Middlebury, IN
Middlebury, IN
-4
DNS
7
57B
Alekzander Bonee Howe, IN
Howe, IN
-
DNS
5
03L
Jason Luley Cromwell, IN
Cromwell, IN
-
Finish
Start
#
Competitor
Hometown
Time
1
11
03C
Ryan Crocker Mishawaka, IN
Mishawaka, IN
17.264
2
4
27G
Kimmie Grubb New Paris, IN
New Paris, IN
17.301
3
16
43E
Tyler Evans Etna Green, IN
Etna Green, IN
17.420
4
13
14V
Curtis Vitali IN, IN
IN, IN
17.447
5
5
5X
Andrew Hamilton Osceola, IN
Osceola, IN
17.448
6
9
03W
Kevin Witmer New Paris, IN
New Paris, IN
17.704
7
3
51X
George Flowers Goshen, IN
Goshen, IN
17.804
8
20
13X
Kenneth Daren Jr Plymouth, IN
Plymouth, IN
18.022
9
1
05
Mark Allen ASHLEY, IN
ASHLEY, IN
18.026
10
6
13J
Justin Holdeman Elkhart, IN
Elkhart, IN
18.100
11
2
05A
Xavier Allen Allen ASHLEY, IN
ASHLEY, IN
18.112
12
10
19W
Emma Wohlford Goshen, IN
Goshen, IN
18.227
13
15
13S
Keith Smith Warsaw, IN
Warsaw, IN
18.253
14
12
35S
Chris Scarberry Jones, MI
Jones, MI
18.284
Top 14 transfer
15
19
4E
Rex Evans Etna Green, IN
Etna Green, IN
18.504
16
7
98
John Jager Kimmell, IN
Kimmell, IN
18.568
17
17
03L
Jason Luley Cromwell, IN
Cromwell, IN
18.638
18
21
99E
Richard Evans Elkhart, IN
Elkhart, IN
18.761
19
8
98T
Tyler Miller New Paris, IN
New Paris, IN
18.868
20
22
91S
John Slone Ligonier, IN
Ligonier, IN
19.172
21
18
57B
Alekzander Bonee Howe, IN
Howe, IN
19.872
Finish
Start
#
Competitor
Hometown
Time
1
8
98T
Tyler Miller New Paris, IN
New Paris, IN
18.113
2
1
05
Mark Allen ASHLEY, IN
ASHLEY, IN
18.065
3
2
05A
Xavier Allen Allen ASHLEY, IN
ASHLEY, IN
18.015
4
15
6A
Daniel Archer Middlebury, IN
Middlebury, IN
18.035
5
18
57B
Alekzander Bonee Howe, IN
Howe, IN
18.041
6
11
03C
Ryan Crocker Mishawaka, IN
Mishawaka, IN
17.404
7
19
4E
Rex Evans Etna Green, IN
Etna Green, IN
18.604
8
7
27G
Kimmie Grubb New Paris, IN
New Paris, IN
17.401
9
4
5X
Andrew Hamilton Osceola, IN
Osceola, IN
18.067
10
5
13J
Justin Holdeman Elkhart, IN
Elkhart, IN
17.375
11
6
98
John Jager Kimmell, IN
Kimmell, IN
18.483
12
12
35S
Chris Scarberry Jones, MI
Jones, MI
18.009
13
13
14V
Curtis Vitali IN, IN
IN, IN
17.389
14
9
03W
Kevin Witmer New Paris, IN
New Paris, IN
17.714
15
10
19W
Emma Wohlford Goshen, IN
Goshen, IN
18.087
Finish
Start
#
Competitor
Hometown
Time
1
16
43E
Tyler Evans Etna Green, IN
Etna Green, IN
17.252
2
7
27G
Kimmie Grubb New Paris, IN
New Paris, IN
17.379
3
11
03C
Ryan Crocker Mishawaka, IN
Mishawaka, IN
17.441
4
5
13J
Justin Holdeman Elkhart, IN
Elkhart, IN
17.511
5
3
5X
Andrew Hamilton Osceola, IN
Osceola, IN
17.512
6
13
14V
Curtis Vitali IN, IN
IN, IN
17.526
7
18
57B
Alekzander Bonee Howe, IN
Howe, IN
17.960
8
2
05A
Xavier Allen Allen ASHLEY, IN
ASHLEY, IN
18.036
9
15
13S
Keith Smith Warsaw, IN
Warsaw, IN
18.082
10
10
19W
Emma Wohlford Goshen, IN
Goshen, IN
18.093
11
20
13X
Kenneth Daren Jr Plymouth, IN
Plymouth, IN
18.177
12
1
05
Mark Allen ASHLEY, IN
ASHLEY, IN
18.180
13
6
98
John Jager Kimmell, IN
Kimmell, IN
18.216
14
12
35S
Chris Scarberry Jones, MI
Jones, MI
18.279
15
19
4E
Rex Evans Etna Green, IN
Etna Green, IN
18.640
16
17
03L
Jason Luley Cromwell, IN
Cromwell, IN
17.863
17
14
6A
Daniel Archer Middlebury, IN
Middlebury, IN
19.538
18
8
98T
Tyler Miller New Paris, IN
New Paris, IN
18.067
19
21
99E
Richard Evans Elkhart, IN
Elkhart, IN
17.747
Troyer Carpets Outlaw Front Wheel Drives
Swi's Guys Mini-Stocks
Finish
Start
#
Competitor
Hometown
+/-
1
2
42S
Mike smith Sunapee, NH
Sunapee, NH
1
2
1
44C
Michael Conner Kewanna, IN
Kewanna, IN
-1
Finish
Start
#
Competitor
Hometown
+/-
1
2
42S
Mike smith Sunapee, NH
Sunapee, NH
1
2
1
44C
Michael Conner Kewanna, IN
Kewanna, IN
-1
Finish
Start
#
Competitor
Hometown
Time
1
1
42S
Mike smith Sunapee, NH
Sunapee, NH
15.842
2
2
44C
Michael Conner Kewanna, IN
Kewanna, IN
18.317
All transfer
Finish
Start
#
Competitor
Hometown
Time
1
1
42S
Mike smith Sunapee, NH
Sunapee, NH
15.968
Finish
Start
#
Competitor
Hometown
Time
1
1
42S
Mike smith Sunapee, NH
Sunapee, NH
15.947
Monteith's Street Stocks
Finish
Start
#
Competitor
Hometown
+/-
1
11
20
Travis Schlabach Syracuse, IN
Syracuse, IN
10
2
12
66S
Nick Stremme South Bend, IN
South Bend, IN
10
3
10
61
Cameron Schlabach Syracuse, IN
Syracuse, IN
7
4
9
37S
Dylan Stremme South Bend, IN
South Bend, IN
5
5
7
3C
Clarence Chupp New Paris, IN
New Paris, IN
2
6
6
15
Mark Beers Elkhart, IN
Elkhart, IN
-
7
3
6C
Doug Chilcutt
-4
8 DNF
8
31S
Jason Shepherd Milford, IN
Milford, IN
-
9 DNF
5
60M
Austin Meads Warsaw, IN
Warsaw, IN
-4
10 DNF
2
64
Rex Evans Etna Green, IN
Etna Green, IN
-8
11 DNF
4
78C
Brandon Caretti Elkhart, IN
Elkhart, IN
-7
12 DNF
1
18R
Briana Rumbaugh Elkhart, IN
Elkhart, IN
-11
Finish
Start
#
Competitor
Hometown
+/-
1
3
37S
Dylan Stremme South Bend, IN
South Bend, IN
2
2
6
66S
Nick Stremme South Bend, IN
South Bend, IN
4
3
1
3C
Clarence Chupp New Paris, IN
New Paris, IN
-2
4
4
61
Cameron Schlabach Syracuse, IN
Syracuse, IN
-
5
2
31S
Jason Shepherd Milford, IN
Milford, IN
-3
DNS
5
20
Travis Schlabach Syracuse, IN
Syracuse, IN
-
Finish
Start
#
Competitor
Hometown
+/-
1
3
6C
Doug Chilcutt
2
2
6
15
Mark Beers Elkhart, IN
Elkhart, IN
4
3
2
64
Rex Evans Etna Green, IN
Etna Green, IN
-1
4
4
78C
Brandon Caretti Elkhart, IN
Elkhart, IN
-
5
1
18R
Briana Rumbaugh Elkhart, IN
Elkhart, IN
-4
6
5
60M
Austin Meads Warsaw, IN
Warsaw, IN
-1
Finish
Start
#
Competitor
Hometown
Time
1
4
66S
Nick Stremme South Bend, IN
South Bend, IN
14.845
2
7
20
Travis Schlabach Syracuse, IN
Syracuse, IN
14.945
3
6
61
Cameron Schlabach Syracuse, IN
Syracuse, IN
15.006
4
3
37S
Dylan Stremme South Bend, IN
South Bend, IN
15.027
5
9
31S
Jason Shepherd Milford, IN
Milford, IN
15.333
6
5
3C
Clarence Chupp New Paris, IN
New Paris, IN
15.588
7
1
15
Mark Beers Elkhart, IN
Elkhart, IN
15.660
8
2
60M
Austin Meads Warsaw, IN
Warsaw, IN
15.842
9
12
78C
Brandon Caretti Elkhart, IN
Elkhart, IN
15.857
10
8
6C
Doug Chilcutt
16.239
11
10
64
Rex Evans Etna Green, IN
Etna Green, IN
16.367
12
11
18R
Briana Rumbaugh Elkhart, IN
Elkhart, IN
17.473
Finish
Start
#
Competitor
Hometown
Time
1
3
66S
Nick Stremme South Bend, IN
South Bend, IN
14.923
2
6
61
Cameron Schlabach Syracuse, IN
Syracuse, IN
15.122
3
2
37S
Dylan Stremme South Bend, IN
South Bend, IN
15.128
4
9
31S
Jason Shepherd Milford, IN
Milford, IN
15.739
5
12
78C
Brandon Caretti Elkhart, IN
Elkhart, IN
15.749
6
5
3C
Clarence Chupp New Paris, IN
New Paris, IN
15.938
7
4
60M
Austin Meads Warsaw, IN
Warsaw, IN
15.959
8
1
15
Mark Beers Elkhart, IN
Elkhart, IN
16.183
9
8
6C
Doug Chilcutt
16.272
10
11
64
Rex Evans Etna Green, IN
Etna Green, IN
16.350
Finish
Start
#
Competitor
Hometown
Time
1
7
20
Travis Schlabach Syracuse, IN
Syracuse, IN
14.866
2
3
66S
Nick Stremme South Bend, IN
South Bend, IN
14.889
3
2
37S
Dylan Stremme South Bend, IN
South Bend, IN
15.064
4
1
15
Mark Beers Elkhart, IN
Elkhart, IN
15.568
5
4
60M
Austin Meads Warsaw, IN
Warsaw, IN
15.753
6
5
3C
Clarence Chupp New Paris, IN
New Paris, IN
15.753
7
8
6C
Doug Chilcutt
15.777
8
11
64
Rex Evans Etna Green, IN
Etna Green, IN
16.252
9
10
18R
Briana Rumbaugh Elkhart, IN
Elkhart, IN
17.446
Limited Late Models
Finish
Start
#
Competitor
Hometown
+/-
1
4
7S
Bobby Stremme South Bend, IN
South Bend, IN
3
2
5
86H
Cody Hawn Cromwell, IN
Cromwell, IN
3
3
3
2R
Scott Reel Elkhart, IN
Elkhart, IN
-
4 DNF
2
13R
Aaron Flora Elkhart, IN
Elkhart, IN
-2
DQ
1
11S
Dan Sprat Elkhart, IN
Elkhart, IN
-
Finish
Start
#
Competitor
Hometown
+/-
1
4
7S
Bobby Stremme South Bend, IN
South Bend, IN
3
2
5
86H
Cody Hawn Cromwell, IN
Cromwell, IN
3
3
2
13R
Aaron Flora Elkhart, IN
Elkhart, IN
-1
4
3
2R
Scott Reel Elkhart, IN
Elkhart, IN
-1
5
1
11S
Dan Sprat Elkhart, IN
Elkhart, IN
-4
All transfer
Finish
Start
#
Competitor
Hometown
Time
1
1
86H
Cody Hawn Cromwell, IN
Cromwell, IN
14.452
2
3
7S
Bobby Stremme South Bend, IN
South Bend, IN
14.564
3
2
2R
Scott Reel Elkhart, IN
Elkhart, IN
14.841
4
4
13R
Aaron Flora Elkhart, IN
Elkhart, IN
14.952
5
5
11S
Dan Sprat Elkhart, IN
Elkhart, IN
16.244
Finish
Start
#
Competitor
Hometown
Time
1
2
86H
Cody Hawn Cromwell, IN
Cromwell, IN
14.418
2
3
7S
Bobby Stremme South Bend, IN
South Bend, IN
14.430
3
1
2R
Scott Reel Elkhart, IN
Elkhart, IN
14.622
4
4
13R
Aaron Flora Elkhart, IN
Elkhart, IN
14.651
5
5
11S
Dan Sprat Elkhart, IN
Elkhart, IN
15.235
Finish
Start
#
Competitor
Hometown
Time
1
1
2R
Scott Reel Elkhart, IN
Elkhart, IN
14.572
2
4
13R
Aaron Flora Elkhart, IN
Elkhart, IN
14.909
3
5
11S
Dan Sprat Elkhart, IN
Elkhart, IN
15.556
4
3
7S
Bobby Stremme South Bend, IN
South Bend, IN
14.408