The 2021 New Paris Speedway schedule has been released highlighted by the 20th Anniversary Summer Sizzler!!!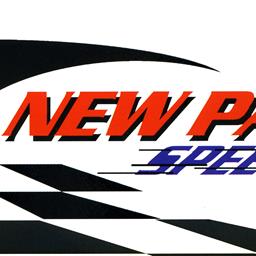 7/31/2021 - New Paris Speedway
New Paris, IN
Kids Night, Autograph Night, Backpack Night
Kids its your night for Autographs and Backpacks. The GLS Mini-Cups will also join or 6 regular weekly classes to truly make this night special.
Bennett Drive Away Diva Hornets

11 entries

Hornets

28 entries

Troyer Carpets Outlaw Front Wheel Drives

6 entries

Swi's Guys Mini-Stocks

8 entries

Monteith's Street Stocks

18 entries

Limited Late Models

3 entries

GLS Mini-Cups
Full Event Information on MyRacePass
Bennett Drive Away Diva Hornets
Finish
Start
#
Competitor
Hometown
+/-
1
8
00
Kelsea Fletcher Syracuse, IN
Syracuse, IN
7
2
7
98D
Taylor Damron Goshen, IN
Goshen, IN
5
3
6
7M
Mindy Miracle Goshen, IN
Goshen, IN
3
4
5
61S
Cindy Schlabach Syracuse, IN
Syracuse, IN
1
5
11
4E
Alyssa Evans Etna Green, IN
Etna Green, IN
6
6
4
03
Leslie Luley Cromwell, IN
Cromwell, IN
-2
7 DNF
10
15
Kylie Horn Howe, IN
Howe, IN
3
8 DNF
3
18R
Brittany Rumbaugh Rumbaugh Elkhart, IN
Elkhart, IN
-5
DNS
2
31K
Brooke Kamp Elkhart, IN
Elkhart, IN
-
DNS
1
13T
Stephanie Taylor Bristol, IN
Bristol, IN
-
DQ
9
00R
Jazmine Reams Bristol, IN
Bristol, IN
-
Finish
Start
#
Competitor
Hometown
+/-
1
5
00R
Jazmine Reams Bristol, IN
Bristol, IN
4
2
2
7M
Mindy Miracle Goshen, IN
Goshen, IN
-
3
4
00
Kelsea Fletcher Syracuse, IN
Syracuse, IN
1
4
3
98D
Taylor Damron Goshen, IN
Goshen, IN
-1
5
1
15
Kylie Horn Howe, IN
Howe, IN
-4
All transfer
Finish
Start
#
Competitor
Hometown
+/-
1
6
61S
Cindy Schlabach Syracuse, IN
Syracuse, IN
5
2
4
4E
Alyssa Evans Etna Green, IN
Etna Green, IN
2
3
5
03
Leslie Luley Cromwell, IN
Cromwell, IN
2
4
3
18R
Brittany Rumbaugh Rumbaugh Elkhart, IN
Elkhart, IN
-1
DNS
2
31K
Brooke Kamp Elkhart, IN
Elkhart, IN
-
DNS
1
13T
Stephanie Taylor Bristol, IN
Bristol, IN
-
All transfer
Finish
Start
#
Competitor
Hometown
Time
1
6
00R
Jazmine Reams Bristol, IN
Bristol, IN
17.273
2
4
00
Kelsea Fletcher Syracuse, IN
Syracuse, IN
17.325
3
3
98D
Taylor Damron Goshen, IN
Goshen, IN
17.800
4
9
7M
Mindy Miracle Goshen, IN
Goshen, IN
17.923
5
11
15
Kylie Horn Howe, IN
Howe, IN
18.397
6
5
61S
Cindy Schlabach Syracuse, IN
Syracuse, IN
18.799
7
1
03
Leslie Luley Cromwell, IN
Cromwell, IN
19.317
8
8
4E
Alyssa Evans Etna Green, IN
Etna Green, IN
20.118
9
2
18R
Brittany Rumbaugh Rumbaugh Elkhart, IN
Elkhart, IN
20.552
10
7
31K
Brooke Kamp Elkhart, IN
Elkhart, IN
21.729
11
10
13T
Stephanie Taylor Bristol, IN
Bristol, IN
21.792
All transfer
Finish
Start
#
Competitor
Hometown
Time
1
6
00R
Jazmine Reams Bristol, IN
Bristol, IN
17.509
2
4
00
Kelsea Fletcher Syracuse, IN
Syracuse, IN
17.524
3
11
15
Kylie Horn Howe, IN
Howe, IN
19.240
4
5
61S
Cindy Schlabach Syracuse, IN
Syracuse, IN
19.594
5
1
03
Leslie Luley Cromwell, IN
Cromwell, IN
19.684
6
8
4E
Alyssa Evans Etna Green, IN
Etna Green, IN
19.813
7
2
18R
Brittany Rumbaugh Rumbaugh Elkhart, IN
Elkhart, IN
20.660
8
7
31K
Brooke Kamp Elkhart, IN
Elkhart, IN
22.209
9
3
98D
Taylor Damron Goshen, IN
Goshen, IN
17.360
Hornets
Finish
Start
#
Competitor
Hometown
+/-
1
11
14V
Curtis Vitali IN, IN
IN, IN
10
2
13
3S
Sean Stuart North Liberty , IN
North Liberty , IN
11
3
8
43E
Tyler Evans Etna Green, IN
Etna Green, IN
5
4
15
03W
Kevin Witmer New Paris, IN
New Paris, IN
11
5
6
5X
Andrew Hamilton Osceola, IN
Osceola, IN
1
6
9
27G
Kimmie Grubb New Paris, IN
New Paris, IN
3
7
12
7M
Michael Miracle Goshen, IN
Goshen, IN
5
8
14
00R
John Reames
6
9
1
51X
George Flowers Goshen, IN
Goshen, IN
-8
10 DNF
2
18A
Lee Adkins Elkhart, IN
Elkhart, IN
-8
11 DNF
7
13J
Justin Holdeman Elkhart, IN
Elkhart, IN
-4
12 DNF
4
05
Mark Allen ASHLEY, IN
ASHLEY, IN
-8
13 DNF
5
57B
Alekzander Bonee Howe, IN
Howe, IN
-8
DQ
3
98T
Tyler Miller New Paris, IN
New Paris, IN
-
DQ
10
03C
Ryan Crocker Mishawaka, IN
Mishawaka, IN
-
Finish
Start
#
Competitor
Hometown
+/-
1
12
05A
Xavier Allen Allen ASHLEY, IN
ASHLEY, IN
11
2
5
14S
Jeffery Smith Warsaw, IN
Warsaw, IN
3
3
3
13R
Ray Roberts
-
4
8
19W
Emma Wohlford Goshen, IN
Goshen, IN
4
5
11
4E
Rex Evans Etna Green, IN
Etna Green, IN
6
6
7
91S
John Slone Ligonier, IN
Ligonier, IN
1
7
6
91W
Justin Wallace
-1
8
2
6AR
Daniel Archer Middlebury, IN
Middlebury, IN
-6
9
9
6A
Josh Arriola Goshen, IN
Goshen, IN
-
10
1
99E
Richard Evans Elkhart, IN
Elkhart, IN
-9
11
4
64J
Brian Hire Kendallville, IN
Kendallville, IN
-7
DNS
10
60
Brandon Fink Nappanee, IN
Nappanee, IN
-
Finish
Start
#
Competitor
Hometown
+/-
1
3
43E
Tyler Evans Etna Green, IN
Etna Green, IN
2
2
6
14V
Curtis Vitali IN, IN
IN, IN
4
3
5
03C
Ryan Crocker Mishawaka, IN
Mishawaka, IN
2
4
2
13J
Justin Holdeman Elkhart, IN
Elkhart, IN
-2
5
7
7M
Michael Miracle Goshen, IN
Goshen, IN
2
6
4
27G
Kimmie Grubb New Paris, IN
New Paris, IN
-2
7
1
3S
Sean Stuart North Liberty , IN
North Liberty , IN
-6
Finish
Start
#
Competitor
Hometown
+/-
1
2
51X
George Flowers Goshen, IN
Goshen, IN
1
2
3
18A
Lee Adkins Elkhart, IN
Elkhart, IN
1
3
6
57B
Alekzander Bonee Howe, IN
Howe, IN
3
4
5
05
Mark Allen ASHLEY, IN
ASHLEY, IN
1
5
4
98T
Tyler Miller New Paris, IN
New Paris, IN
-1
6
1
00R
John Reames
-5
7 DNF
7
5X
Andrew Hamilton Osceola, IN
Osceola, IN
-
Finish
Start
#
Competitor
Hometown
+/-
1
3
6A
Josh Arriola Goshen, IN
Goshen, IN
2
2
6
05A
Xavier Allen Allen ASHLEY, IN
ASHLEY, IN
4
3
1
91S
John Slone Ligonier, IN
Ligonier, IN
-2
4
5
4E
Rex Evans Etna Green, IN
Etna Green, IN
1
5
2
19W
Emma Wohlford Goshen, IN
Goshen, IN
-3
DNS
4
60
Brandon Fink Nappanee, IN
Nappanee, IN
-
Finish
Start
#
Competitor
Hometown
+/-
1
3
13R
Ray Roberts
2
2
5
14S
Jeffery Smith Warsaw, IN
Warsaw, IN
3
3
6
91W
Justin Wallace
3
4
1
99E
Richard Evans Elkhart, IN
Elkhart, IN
-3
5
4
64J
Brian Hire Kendallville, IN
Kendallville, IN
-1
6
03W
Kevin Witmer New Paris, IN
New Paris, IN
-
7 DNF
2
6AR
Daniel Archer Middlebury, IN
Middlebury, IN
-5
Finish
Start
#
Competitor
Hometown
Time
1
28
7M
Michael Miracle Goshen, IN
Goshen, IN
17.272
2
27
14V
Curtis Vitali IN, IN
IN, IN
17.296
3
2
03C
Ryan Crocker Mishawaka, IN
Mishawaka, IN
17.312
4
5
27G
Kimmie Grubb New Paris, IN
New Paris, IN
17.340
5
12
43E
Tyler Evans Etna Green, IN
Etna Green, IN
17.495
6
6
13J
Justin Holdeman Elkhart, IN
Elkhart, IN
17.554
7
20
3S
Sean Stuart North Liberty , IN
North Liberty , IN
17.558
8
10
5X
Andrew Hamilton Osceola, IN
Osceola, IN
17.576
9
22
57B
Alekzander Bonee Howe, IN
Howe, IN
17.594
10
24
05
Mark Allen ASHLEY, IN
ASHLEY, IN
17.611
11
8
98T
Tyler Miller New Paris, IN
New Paris, IN
17.620
12
1
18A
Lee Adkins Elkhart, IN
Elkhart, IN
17.642
13
4
51X
George Flowers Goshen, IN
Goshen, IN
17.647
14
13
00R
John Reames
17.691
Top 14 transfer
15
25
05A
Xavier Allen Allen ASHLEY, IN
ASHLEY, IN
17.940
16
16
4E
Rex Evans Etna Green, IN
Etna Green, IN
17.950
17
3
60
Brandon Fink Nappanee, IN
Nappanee, IN
17.985
18
15
6A
Josh Arriola Goshen, IN
Goshen, IN
18.084
19
14
19W
Emma Wohlford Goshen, IN
Goshen, IN
18.087
20
18
91S
John Slone Ligonier, IN
Ligonier, IN
18.240
21
21
91W
Justin Wallace
18.258
22
19
14S
Jeffery Smith Warsaw, IN
Warsaw, IN
18.314
23
11
64J
Brian Hire Kendallville, IN
Kendallville, IN
18.524
24
23
13R
Ray Roberts
18.832
25
26
6AR
Daniel Archer Middlebury, IN
Middlebury, IN
18.968
26
17
99E
Richard Evans Elkhart, IN
Elkhart, IN
19.094
Finish
Start
#
Competitor
Hometown
Time
1
8
03W
Kevin Witmer New Paris, IN
New Paris, IN
17.370
2
10
5X
Andrew Hamilton Osceola, IN
Osceola, IN
17.462
3
7
98T
Tyler Miller New Paris, IN
New Paris, IN
17.464
4
19
3S
Sean Stuart North Liberty , IN
North Liberty , IN
17.550
5
5
13J
Justin Holdeman Elkhart, IN
Elkhart, IN
17.567
6
9
18A
Lee Adkins Elkhart, IN
Elkhart, IN
17.616
7
1
03C
Ryan Crocker Mishawaka, IN
Mishawaka, IN
18.019
8
14
19W
Emma Wohlford Goshen, IN
Goshen, IN
18.073
9
13
00R
John Reames
18.082
10
2
60
Brandon Fink Nappanee, IN
Nappanee, IN
18.097
11
16
4E
Rex Evans Etna Green, IN
Etna Green, IN
18.166
12
14S
Jeffery Smith Warsaw, IN
Warsaw, IN
18.240
13
15
6A
Josh Arriola Goshen, IN
Goshen, IN
18.310
14
11
64J
Brian Hire Kendallville, IN
Kendallville, IN
19.152
15
17
99E
Richard Evans Elkhart, IN
Elkhart, IN
23.598
Finish
Start
#
Competitor
Hometown
Time
1
19
3S
Sean Stuart North Liberty , IN
North Liberty , IN
17.241
2
1
03C
Ryan Crocker Mishawaka, IN
Mishawaka, IN
17.328
3
12
43E
Tyler Evans Etna Green, IN
Etna Green, IN
17.336
4
4
27G
Kimmie Grubb New Paris, IN
New Paris, IN
17.428
5
5
13J
Justin Holdeman Elkhart, IN
Elkhart, IN
17.456
6
10
5X
Andrew Hamilton Osceola, IN
Osceola, IN
17.557
7
7
98T
Tyler Miller New Paris, IN
New Paris, IN
17.810
8
13
00R
John Reames
17.832
9
9
18A
Lee Adkins Elkhart, IN
Elkhart, IN
17.842
10
2
60
Brandon Fink Nappanee, IN
Nappanee, IN
17.937
11
15
6A
Josh Arriola Goshen, IN
Goshen, IN
17.997
12
14
19W
Emma Wohlford Goshen, IN
Goshen, IN
18.077
13
24
05A
Xavier Allen Allen ASHLEY, IN
ASHLEY, IN
18.093
14
23
05
Mark Allen ASHLEY, IN
ASHLEY, IN
18.114
15
22
57B
Alekzander Bonee Howe, IN
Howe, IN
18.145
16
14S
Jeffery Smith Warsaw, IN
Warsaw, IN
18.167
17
18
91S
John Slone Ligonier, IN
Ligonier, IN
18.523
18
11
64J
Brian Hire Kendallville, IN
Kendallville, IN
18.788
19
25
6AR
Daniel Archer Middlebury, IN
Middlebury, IN
19.366
Troyer Carpets Outlaw Front Wheel Drives
Finish
Start
#
Competitor
Hometown
+/-
1
5
85C
Jason Clevenger Osceola, IN
Osceola, IN
4
2
3
1W
Robert Winrott Bristol, IN
Bristol, IN
1
3
4
05
Leonard Davis Goshen, IN
Goshen, IN
1
4
6
3W
Kevin Witmer New Paris, IN
New Paris, IN
2
5 DNF
1
73
Ricky Nelson Syracuse, IN
Syracuse, IN
-4
6 DNF
2
27G
Kimmie Grubb New Paris, IN
New Paris, IN
-4
Finish
Start
#
Competitor
Hometown
+/-
1
5
85C
Jason Clevenger Osceola, IN
Osceola, IN
4
2
3
1W
Robert Winrott Bristol, IN
Bristol, IN
1
3
4
05
Leonard Davis Goshen, IN
Goshen, IN
1
4
6
3W
Kevin Witmer New Paris, IN
New Paris, IN
2
5
1
73
Ricky Nelson Syracuse, IN
Syracuse, IN
-4
6 DNF
2
27G
Kimmie Grubb New Paris, IN
New Paris, IN
-4
Finish
Start
#
Competitor
Hometown
Time
1
1
85C
Jason Clevenger Osceola, IN
Osceola, IN
15.258
2
3
05
Leonard Davis Goshen, IN
Goshen, IN
15.954
3
4
1W
Robert Winrott Bristol, IN
Bristol, IN
16.204
4
2
27G
Kimmie Grubb New Paris, IN
New Paris, IN
16.795
5
5
73
Ricky Nelson Syracuse, IN
Syracuse, IN
17.455
All transfer
Finish
Start
#
Competitor
Hometown
Time
1
3
05
Leonard Davis Goshen, IN
Goshen, IN
15.899
Swi's Guys Mini-Stocks
Finish
Start
#
Competitor
Hometown
+/-
1
6
47
Louis Davis Goshen, IN
Goshen, IN
5
2
8
31E
Tyler Evans Etna Green, IN
Etna Green, IN
6
3
5
4H
Harley Borntrager Bristol, IN
Bristol, IN
2
4
7
85C
Jason Clevenger Osceola, IN
Osceola, IN
3
5
4
42S
Mike smith Sunapee, NH
Sunapee, NH
-1
6
2
03B
Billy Blair Warsaw, IN
Warsaw, IN
-4
7
1
44C
Michael Conner Kewanna, IN
Kewanna, IN
-6
8
3
32
Nathan Kiser Cromwell, IN
Cromwell, IN
-5
Finish
Start
#
Competitor
Hometown
+/-
1
6
47
Louis Davis Goshen, IN
Goshen, IN
5
2
7
85C
Jason Clevenger Osceola, IN
Osceola, IN
5
3
5
4H
Harley Borntrager Bristol, IN
Bristol, IN
2
4
4
42S
Mike smith Sunapee, NH
Sunapee, NH
-
5
2
03B
Billy Blair Warsaw, IN
Warsaw, IN
-3
6
1
44C
Michael Conner Kewanna, IN
Kewanna, IN
-5
7 DNF
3
32
Nathan Kiser Cromwell, IN
Cromwell, IN
-4
8 DNF
8
31E
Tyler Evans Etna Green, IN
Etna Green, IN
-
Finish
Start
#
Competitor
Hometown
Time
1
1
85C
Jason Clevenger Osceola, IN
Osceola, IN
15.395
2
2
47
Louis Davis Goshen, IN
Goshen, IN
15.498
3
7
4H
Harley Borntrager Bristol, IN
Bristol, IN
15.667
4
4
42S
Mike smith Sunapee, NH
Sunapee, NH
15.928
5
3
32
Nathan Kiser Cromwell, IN
Cromwell, IN
16.357
6
6
03B
Billy Blair Warsaw, IN
Warsaw, IN
16.467
7
8
44C
Michael Conner Kewanna, IN
Kewanna, IN
16.898
All transfer
Finish
Start
#
Competitor
Hometown
Time
1
1
85C
Jason Clevenger Osceola, IN
Osceola, IN
15.336
2
2
47
Louis Davis Goshen, IN
Goshen, IN
15.554
3
4
42S
Mike smith Sunapee, NH
Sunapee, NH
16.591
4
5
31E
Tyler Evans Etna Green, IN
Etna Green, IN
19.263
5
3
32
Nathan Kiser Cromwell, IN
Cromwell, IN
26.812
Finish
Start
#
Competitor
Hometown
Time
1
1
85C
Jason Clevenger Osceola, IN
Osceola, IN
15.382
2
2
47
Louis Davis Goshen, IN
Goshen, IN
15.816
3
7
4H
Harley Borntrager Bristol, IN
Bristol, IN
15.841
4
4
42S
Mike smith Sunapee, NH
Sunapee, NH
15.958
5
6
03B
Billy Blair Warsaw, IN
Warsaw, IN
16.360
6
3
32
Nathan Kiser Cromwell, IN
Cromwell, IN
16.818
7
5
31E
Tyler Evans Etna Green, IN
Etna Green, IN
18.780
Monteith's Street Stocks
Finish
Start
#
Competitor
Hometown
+/-
1
10
37S
Dylan Stremme South Bend, IN
South Bend, IN
9
2
13
66S
Nick Stremme South Bend, IN
South Bend, IN
11
3
9
4
Todd Hall Goshen, IN
Goshen, IN
6
4
12
2B
Bug Schisler
8
5
8
136
Calvin Kelley Elkhart, IN
Elkhart, IN
3
6
11
51H
Josh Highbaugh Edwardsburg, MI
Edwardsburg, MI
5
7
16
88V
Marcus Vitali na, IN
na, IN
9
8
17
02S
Sie Sharp Bristol, IN
Bristol, IN
9
9
4
6C
Doug Chilcutt
-5
10
2
22
Jason Luley Cromwell, IN
Cromwell, IN
-8
11
1
18R
Briana Rumbaugh Elkhart, IN
Elkhart, IN
-10
12
3
64
Rex Evans Etna Green, IN
Etna Green, IN
-9
13 DNF
7
15
Mark Beers Elkhart, IN
Elkhart, IN
-6
14 DNF
14
61
Cameron Schlabach Syracuse, IN
Syracuse, IN
-
15 DNF
15
20
Travis Schlabach Syracuse, IN
Syracuse, IN
-
16 DNF
5
55S
Christopher Schisler Cromwell, IN
Cromwell, IN
-11
17 DNF
6
71
Zackery Courson Larwill, IN
Larwill, IN
-11
DNS
18
12B
Devin Beer Syracuse, IN
Syracuse, IN
-
Finish
Start
#
Competitor
Hometown
+/-
1
7
66S
Nick Stremme South Bend, IN
South Bend, IN
6
2
9
20
Travis Schlabach Syracuse, IN
Syracuse, IN
7
3
1
15
Mark Beers Elkhart, IN
Elkhart, IN
-2
4
8
61
Cameron Schlabach Syracuse, IN
Syracuse, IN
4
5
4
37S
Dylan Stremme South Bend, IN
South Bend, IN
-1
6
6
2B
Bug Schisler
-
7
3
4
Todd Hall Goshen, IN
Goshen, IN
-4
8
5
51H
Josh Highbaugh Edwardsburg, MI
Edwardsburg, MI
-3
9
2
136
Calvin Kelley Elkhart, IN
Elkhart, IN
-7
Finish
Start
#
Competitor
Hometown
+/-
1
5
6C
Doug Chilcutt
4
2
3
22
Jason Luley Cromwell, IN
Cromwell, IN
1
3
6
55S
Christopher Schisler Cromwell, IN
Cromwell, IN
3
4
4
64
Rex Evans Etna Green, IN
Etna Green, IN
-
5
7
71
Zackery Courson Larwill, IN
Larwill, IN
2
6
1
88V
Marcus Vitali na, IN
na, IN
-5
7
2
18R
Briana Rumbaugh Elkhart, IN
Elkhart, IN
-5
8
8
02S
Sie Sharp Bristol, IN
Bristol, IN
-
DNS
9
12B
Devin Beer Syracuse, IN
Syracuse, IN
-
Finish
Start
#
Competitor
Hometown
Time
1
13
20
Travis Schlabach Syracuse, IN
Syracuse, IN
14.902
2
12
61
Cameron Schlabach Syracuse, IN
Syracuse, IN
14.916
3
10
66S
Nick Stremme South Bend, IN
South Bend, IN
15.069
4
15
2B
Bug Schisler
15.177
5
6
51H
Josh Highbaugh Edwardsburg, MI
Edwardsburg, MI
15.248
6
11
37S
Dylan Stremme South Bend, IN
South Bend, IN
15.292
7
5
4
Todd Hall Goshen, IN
Goshen, IN
15.335
8
7
136
Calvin Kelley Elkhart, IN
Elkhart, IN
15.362
9
2
15
Mark Beers Elkhart, IN
Elkhart, IN
15.484
10
4
71
Zackery Courson Larwill, IN
Larwill, IN
15.488
11
16
55S
Christopher Schisler Cromwell, IN
Cromwell, IN
16.085
12
3
6C
Doug Chilcutt
16.283
13
14
64
Rex Evans Etna Green, IN
Etna Green, IN
16.676
14
8
22
Jason Luley Cromwell, IN
Cromwell, IN
16.774
Top 14 transfer
15
9
18R
Briana Rumbaugh Elkhart, IN
Elkhart, IN
16.893
16
18
88V
Marcus Vitali na, IN
na, IN
17.253
17
1
12B
Devin Beer Syracuse, IN
Syracuse, IN
17.253
18
17
02S
Sie Sharp Bristol, IN
Bristol, IN
17.253
Finish
Start
#
Competitor
Hometown
Time
1
10
66S
Nick Stremme South Bend, IN
South Bend, IN
15.052
2
12
61
Cameron Schlabach Syracuse, IN
Syracuse, IN
15.123
3
7
136
Calvin Kelley Elkhart, IN
Elkhart, IN
15.306
4
5
4
Todd Hall Goshen, IN
Goshen, IN
15.357
5
2
15
Mark Beers Elkhart, IN
Elkhart, IN
15.803
6
6
51H
Josh Highbaugh Edwardsburg, MI
Edwardsburg, MI
15.918
7
4
71
Zackery Courson Larwill, IN
Larwill, IN
16.294
8
3
6C
Doug Chilcutt
16.441
9
8
22
Jason Luley Cromwell, IN
Cromwell, IN
16.887
10
9
18R
Briana Rumbaugh Elkhart, IN
Elkhart, IN
17.014
Finish
Start
#
Competitor
Hometown
Time
1
13
20
Travis Schlabach Syracuse, IN
Syracuse, IN
14.983
2
7
136
Calvin Kelley Elkhart, IN
Elkhart, IN
15.241
3
5
4
Todd Hall Goshen, IN
Goshen, IN
15.279
4
15
2B
Bug Schisler
15.380
5
11
37S
Dylan Stremme South Bend, IN
South Bend, IN
15.420
6
6
51H
Josh Highbaugh Edwardsburg, MI
Edwardsburg, MI
15.529
7
2
15
Mark Beers Elkhart, IN
Elkhart, IN
15.562
8
4
71
Zackery Courson Larwill, IN
Larwill, IN
15.599
9
3
6C
Doug Chilcutt
16.039
10
16
55S
Christopher Schisler Cromwell, IN
Cromwell, IN
16.714
11
14
64
Rex Evans Etna Green, IN
Etna Green, IN
16.897
Limited Late Models
Finish
Start
#
Competitor
Hometown
+/-
1
1
2R
Scott Reel Elkhart, IN
Elkhart, IN
-
2
3
86H
Cody Hawn Cromwell, IN
Cromwell, IN
1
3 DNF
2
13R
Aaron Flora Elkhart, IN
Elkhart, IN
-1
Finish
Start
#
Competitor
Hometown
+/-
1
1
2R
Scott Reel Elkhart, IN
Elkhart, IN
-
2
3
86H
Cody Hawn Cromwell, IN
Cromwell, IN
1
3
2
13R
Aaron Flora Elkhart, IN
Elkhart, IN
-1
All transfer
Finish
Start
#
Competitor
Hometown
Time
1
2
86H
Cody Hawn Cromwell, IN
Cromwell, IN
14.222
2
1
13R
Aaron Flora Elkhart, IN
Elkhart, IN
14.527
3
3
2R
Scott Reel Elkhart, IN
Elkhart, IN
14.707
Finish
Start
#
Competitor
Hometown
Time
1
2
86H
Cody Hawn Cromwell, IN
Cromwell, IN
14.393
2
3
2R
Scott Reel Elkhart, IN
Elkhart, IN
14.651
Finish
Start
#
Competitor
Hometown
Time
1
2
86H
Cody Hawn Cromwell, IN
Cromwell, IN
14.321
2
3
2R
Scott Reel Elkhart, IN
Elkhart, IN
14.575
3
1
13R
Aaron Flora Elkhart, IN
Elkhart, IN
14.723