The 2021 New Paris Speedway schedule has been released highlighted by the 20th Anniversary Summer Sizzler!!!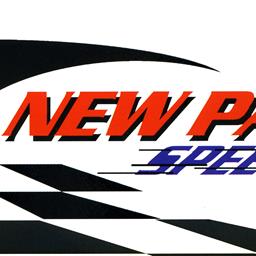 8/5/2021 - New Paris Speedway
New Paris, IN
20th Annual Summer Sizzler
It's the 20th annual "Summer Sizzler" and in its honor the winner will pocket $20,000 for the Outlaw Late Models. Keeping up with tradition the Modifieds will also be on hand to put on a spectacular show.
Bennett Drive Away Outlaw Late Models

25 entries

Modifieds

18 entries
Full Event Information on MyRacePass
Bennett Drive Away Outlaw Late Models
Finish
Start
#
Competitor
Hometown
+/-
1
14
24R
Tyler Roahrig Plymouth, IN
Plymouth, IN
13
2
2
23M
Jacob Maynard Elkhart, IN
Elkhart, IN
-
3
5
10P
Bud Perry Edgerton, OH
Edgerton, OH
2
4
13
25R
JR Roahrig Plymouth, IN
Plymouth, IN
9
5
10
10L
Jack Landis Edgerton, OH
Edgerton, OH
5
6
6
17R
Corey Ryman Goshen, IN
Goshen, IN
-
7
7
4T
Adam Terry St. Joseph, MI
St. Joseph, MI
-
8
19
97X
Matt Frazier Kalamazoo, MI
Kalamazoo, MI
11
9
9
101E
Craig Everage
-
10
8
22C
Jaden Cretacci Walkerton, IN
Walkerton, IN
-2
11
4
40K
Donny Klotz Edwardsburg, MI
Edwardsburg, MI
-7
12 DNF
18
16M
Austin Maynard
6
13 DNF
17
88D
Andrew DeVreese Mishawaka, IN
Mishawaka, IN
4
14 DNF
3
61S
Travis Schlabach Syracuse, IN
Syracuse, IN
-11
15 DNF
1
48S
Kevin Sauer Lakeville, IN
Lakeville, IN
-14
16 DNF
16
12S
Scott Ross Plymouth, IN
Plymouth, IN
-
17 DNF
20
89S
Bobby Schisler Cromwell, IN
Cromwell, IN
3
18 DNF
11
6A
Shawn Amor Walkerton, IN
Walkerton, IN
-7
19 DNF
12
95S
Steve Stacy Plymouth, IN
Plymouth, IN
-7
20 DNF
15
9W
Kenny Whitman Elkhart, IN
Elkhart, IN
-5
Finish
Start
#
Competitor
Hometown
+/-
1
1
97X
Matt Frazier Kalamazoo, MI
Kalamazoo, MI
-
2
3
89S
Bobby Schisler Cromwell, IN
Cromwell, IN
1
Top 2 transfer
3
2
2D
Austin Davis North Liberty , IN
North Liberty , IN
-1
4
5
93N
James Newman South Bend, IN
South Bend, IN
1
5
6
2R
Scott Reel Elkhart, IN
Elkhart, IN
1
6 DNF
4
2K
Dennis Kaiser South Bend, IN
South Bend, IN
-2
Finish
Start
#
Competitor
Hometown
Time
1
15
24R
Tyler Roahrig Plymouth, IN
Plymouth, IN
13.088
2
14
25R
JR Roahrig Plymouth, IN
Plymouth, IN
13.201
3
21
95S
Steve Stacy Plymouth, IN
Plymouth, IN
13.217
4
1
6A
Shawn Amor Walkerton, IN
Walkerton, IN
13.312
5
9
10L
Jack Landis Edgerton, OH
Edgerton, OH
13.333
6
5
101E
Craig Everage
13.336
7
2
22C
Jaden Cretacci Walkerton, IN
Walkerton, IN
13.338
8
22
4T
Adam Terry St. Joseph, MI
St. Joseph, MI
13.340
9
17
17R
Corey Ryman Goshen, IN
Goshen, IN
13.367
10
12
10P
Bud Perry Edgerton, OH
Edgerton, OH
13.376
11
8
40K
Donny Klotz Edwardsburg, MI
Edwardsburg, MI
13.393
12
20
61S
Travis Schlabach Syracuse, IN
Syracuse, IN
13.447
13
11
23M
Jacob Maynard Elkhart, IN
Elkhart, IN
13.450
14
18
48S
Kevin Sauer Lakeville, IN
Lakeville, IN
13.450
Top 14 transfer
15
4
88D
Andrew DeVreese Mishawaka, IN
Mishawaka, IN
13.467
16
10
16M
Austin Maynard
13.497
17
23
9W
Kenny Whitman Elkhart, IN
Elkhart, IN
13.511
18
16
12S
Scott Ross Plymouth, IN
Plymouth, IN
13.532
19
6
97X
Matt Frazier Kalamazoo, MI
Kalamazoo, MI
13.560
20
3
2D
Austin Davis North Liberty , IN
North Liberty , IN
13.650
21
19
89S
Bobby Schisler Cromwell, IN
Cromwell, IN
13.851
22
7
2K
Dennis Kaiser South Bend, IN
South Bend, IN
13.971
23
25
93N
James Newman South Bend, IN
South Bend, IN
14.141
24
13
2R
Scott Reel Elkhart, IN
Elkhart, IN
14.447
Finish
Start
#
Competitor
Hometown
Time
1
15
24R
Tyler Roahrig Plymouth, IN
Plymouth, IN
13.250
2
14
25R
JR Roahrig Plymouth, IN
Plymouth, IN
13.362
3
17
17R
Corey Ryman Goshen, IN
Goshen, IN
13.415
4
23
9W
Kenny Whitman Elkhart, IN
Elkhart, IN
13.463
5
12
10P
Bud Perry Edgerton, OH
Edgerton, OH
13.516
6
21
95S
Steve Stacy Plymouth, IN
Plymouth, IN
13.534
7
6
97X
Matt Frazier Kalamazoo, MI
Kalamazoo, MI
13.548
8
18
48S
Kevin Sauer Lakeville, IN
Lakeville, IN
13.584
9
1
6A
Shawn Amor Walkerton, IN
Walkerton, IN
13.623
10
2
22C
Jaden Cretacci Walkerton, IN
Walkerton, IN
13.673
11
9
10L
Jack Landis Edgerton, OH
Edgerton, OH
13.679
12
8
40K
Donny Klotz Edwardsburg, MI
Edwardsburg, MI
13.707
13
11
23M
Jacob Maynard Elkhart, IN
Elkhart, IN
13.745
14
22
4T
Adam Terry St. Joseph, MI
St. Joseph, MI
13.764
15
10
16M
Austin Maynard
13.528
16
16
12S
Scott Ross Plymouth, IN
Plymouth, IN
13.996
17
3
2D
Austin Davis North Liberty , IN
North Liberty , IN
14.147
18
24
30C
Tony Chapman South Bend, IN
South Bend, IN
14.212
19
7
2K
Dennis Kaiser South Bend, IN
South Bend, IN
14.279
20
13
2R
Scott Reel Elkhart, IN
Elkhart, IN
14.838
21
4
88D
Andrew DeVreese Mishawaka, IN
Mishawaka, IN
13.685
22
19
89S
Bobby Schisler Cromwell, IN
Cromwell, IN
14.092
Finish
Start
#
Competitor
Hometown
Time
1
15
24R
Tyler Roahrig Plymouth, IN
Plymouth, IN
13.206
2
10
16M
Austin Maynard
13.357
3
17
17R
Corey Ryman Goshen, IN
Goshen, IN
13.414
4
14
25R
JR Roahrig Plymouth, IN
Plymouth, IN
13.425
5
21
95S
Steve Stacy Plymouth, IN
Plymouth, IN
13.536
6
12
10P
Bud Perry Edgerton, OH
Edgerton, OH
13.545
7
6
97X
Matt Frazier Kalamazoo, MI
Kalamazoo, MI
13.593
8
23
9W
Kenny Whitman Elkhart, IN
Elkhart, IN
13.600
9
18
48S
Kevin Sauer Lakeville, IN
Lakeville, IN
13.605
10
9
10L
Jack Landis Edgerton, OH
Edgerton, OH
13.618
11
1
6A
Shawn Amor Walkerton, IN
Walkerton, IN
13.637
12
22
4T
Adam Terry St. Joseph, MI
St. Joseph, MI
13.662
13
5
101E
Craig Everage
13.707
14
11
23M
Jacob Maynard Elkhart, IN
Elkhart, IN
13.720
15
4
88D
Andrew DeVreese Mishawaka, IN
Mishawaka, IN
13.774
16
20
61S
Travis Schlabach Syracuse, IN
Syracuse, IN
13.872
17
19
89S
Bobby Schisler Cromwell, IN
Cromwell, IN
14.086
18
24
30C
Tony Chapman South Bend, IN
South Bend, IN
14.165
19
3
2D
Austin Davis North Liberty , IN
North Liberty , IN
14.167
20
7
2K
Dennis Kaiser South Bend, IN
South Bend, IN
14.545
21
13
2R
Scott Reel Elkhart, IN
Elkhart, IN
14.656
22
25
93N
James Newman South Bend, IN
South Bend, IN
14.491
Finish
Start
#
Competitor
Hometown
Time
1
2
22C
Jaden Cretacci Walkerton, IN
Walkerton, IN
13.408
2
14
25R
JR Roahrig Plymouth, IN
Plymouth, IN
13.442
3
1
6A
Shawn Amor Walkerton, IN
Walkerton, IN
13.480
4
21
95S
Steve Stacy Plymouth, IN
Plymouth, IN
13.497
5
17
17R
Corey Ryman Goshen, IN
Goshen, IN
13.529
6
10
16M
Austin Maynard
13.556
7
6
97X
Matt Frazier Kalamazoo, MI
Kalamazoo, MI
13.566
8
12
10P
Bud Perry Edgerton, OH
Edgerton, OH
13.616
9
18
48S
Kevin Sauer Lakeville, IN
Lakeville, IN
13.621
10
22
4T
Adam Terry St. Joseph, MI
St. Joseph, MI
13.654
11
11
23M
Jacob Maynard Elkhart, IN
Elkhart, IN
13.739
12
8
40K
Donny Klotz Edwardsburg, MI
Edwardsburg, MI
13.762
13
20
61S
Travis Schlabach Syracuse, IN
Syracuse, IN
13.856
14
19
89S
Bobby Schisler Cromwell, IN
Cromwell, IN
14.033
15
3
2D
Austin Davis North Liberty , IN
North Liberty , IN
14.058
16
13
2R
Scott Reel Elkhart, IN
Elkhart, IN
14.738
Modifieds
Finish
Start
#
Competitor
Hometown
+/-
1
12
10L
Connor Landis Edgerton, OH
Edgerton, OH
11
2
11
12S
Bubba Smith North Canton, OH
North Canton, OH
9
3
13
32X
Cory Pressler Buchanan, MI
Buchanan, MI
10
4
4
1K
Al Berry Albion, IN
Albion, IN
-
5
5
12G
Kevin Gunkel North Webster, IN
North Webster, IN
-
6
8
06W
Nic Weimer Auburn, IN
Auburn, IN
2
7
2
69P
Logan Parker Hudson, IN
Hudson, IN
-5
8
3
92
Steve Shlater Jr. Fort Wayne, IN
Fort Wayne, IN
-5
9
6
99X
Chad Richardson Fort Wayne, IN
Fort Wayne, IN
-3
10
15
6R
Arthur Reynolds Garrett, IN
Garrett, IN
5
11
1
95M
Tim Miller New Haven, IN
New Haven, IN
-10
12
16
69D
Derek Winebrenner Sandusky, OH
Sandusky, OH
4
13
7
10X
Nick Pressler Buchanan, MI
Buchanan, MI
-6
14
9
16T
Aaron Timmerman Maria Stein, OH
Maria Stein, OH
-5
15
14
9T
Jason Timmerman Hicksville, OH
Hicksville, OH
-1
16
10
38
KC Spillers Ft Wayne, IN
Ft Wayne, IN
-6
17
18
80B
Tom Blackburn Waterloo, IN
Waterloo, IN
1
18
17
38K
Lance Krider Auburn, IN
Auburn, IN
-1
Finish
Start
#
Competitor
Hometown
Time
1
13
9T
Jason Timmerman Hicksville, OH
Hicksville, OH
14.015
2
7
32X
Cory Pressler Buchanan, MI
Buchanan, MI
14.016
3
4
10L
Connor Landis Edgerton, OH
Edgerton, OH
14.020
4
10
12S
Bubba Smith North Canton, OH
North Canton, OH
14.022
5
11
38
KC Spillers Ft Wayne, IN
Ft Wayne, IN
14.076
6
12
16T
Aaron Timmerman Maria Stein, OH
Maria Stein, OH
14.090
7
14
06W
Nic Weimer Auburn, IN
Auburn, IN
14.124
8
8
10X
Nick Pressler Buchanan, MI
Buchanan, MI
14.151
9
17
99X
Chad Richardson Fort Wayne, IN
Fort Wayne, IN
14.249
10
2
12G
Kevin Gunkel North Webster, IN
North Webster, IN
14.256
11
1
1K
Al Berry Albion, IN
Albion, IN
14.261
12
9
92
Steve Shlater Jr. Fort Wayne, IN
Fort Wayne, IN
14.273
13
6
69P
Logan Parker Hudson, IN
Hudson, IN
14.322
14
5
95M
Tim Miller New Haven, IN
New Haven, IN
14.478
15
15
6R
Arthur Reynolds Garrett, IN
Garrett, IN
14.534
16
18
69D
Derek Winebrenner Sandusky, OH
Sandusky, OH
14.594
17
3
38K
Lance Krider Auburn, IN
Auburn, IN
14.607
18
16
80B
Tom Blackburn Waterloo, IN
Waterloo, IN
14.755
Top 18 transfer
Finish
Start
#
Competitor
Hometown
Time
1
12
16T
Aaron Timmerman Maria Stein, OH
Maria Stein, OH
14.053
2
13
9T
Jason Timmerman Hicksville, OH
Hicksville, OH
14.157
3
11
38
KC Spillers Ft Wayne, IN
Ft Wayne, IN
14.174
4
4
10L
Connor Landis Edgerton, OH
Edgerton, OH
14.247
5
1
1K
Al Berry Albion, IN
Albion, IN
14.302
6
6
69P
Logan Parker Hudson, IN
Hudson, IN
14.462
7
2
12G
Kevin Gunkel North Webster, IN
North Webster, IN
14.462
8
7
32X
Cory Pressler Buchanan, MI
Buchanan, MI
14.485
9
14
06W
Nic Weimer Auburn, IN
Auburn, IN
14.534
10
9
92
Steve Shlater Jr. Fort Wayne, IN
Fort Wayne, IN
14.537
11
69D
Derek Winebrenner Sandusky, OH
Sandusky, OH
14.554
12
17
99X
Chad Richardson Fort Wayne, IN
Fort Wayne, IN
14.582
13
3
38K
Lance Krider Auburn, IN
Auburn, IN
14.694
14
5
95M
Tim Miller New Haven, IN
New Haven, IN
15.036
15
15
6R
Arthur Reynolds Garrett, IN
Garrett, IN
15.349
Finish
Start
#
Competitor
Hometown
Time
1
13
9T
Jason Timmerman Hicksville, OH
Hicksville, OH
14.103
2
12
16T
Aaron Timmerman Maria Stein, OH
Maria Stein, OH
14.182
3
14
06W
Nic Weimer Auburn, IN
Auburn, IN
14.243
4
8
10X
Nick Pressler Buchanan, MI
Buchanan, MI
14.324
5
10
12S
Bubba Smith North Canton, OH
North Canton, OH
14.379
6
7
32X
Cory Pressler Buchanan, MI
Buchanan, MI
14.421
7
6
69P
Logan Parker Hudson, IN
Hudson, IN
14.463
8
9
92
Steve Shlater Jr. Fort Wayne, IN
Fort Wayne, IN
14.464
9
2
12G
Kevin Gunkel North Webster, IN
North Webster, IN
14.470
10
17
99X
Chad Richardson Fort Wayne, IN
Fort Wayne, IN
14.667
11
18
69D
Derek Winebrenner Sandusky, OH
Sandusky, OH
14.729
12
3
38K
Lance Krider Auburn, IN
Auburn, IN
14.759
13
5
95M
Tim Miller New Haven, IN
New Haven, IN
14.881
14
15
6R
Arthur Reynolds Garrett, IN
Garrett, IN
14.997
15
16
80B
Tom Blackburn Waterloo, IN
Waterloo, IN
14.819